Calypso Cove Marina is located in the Clearbay Area of Lake Thunderbird State Park just 12 miles east of Norman on State Hwy 9. The intersection of 142nd street and Hwy 9 is the entrance to the Clearbay Area and your gateway to a "Watersports Adventure" at Thunderbird Lake.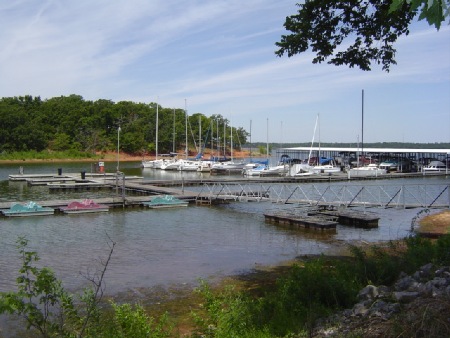 Calypso Cove Marina has been servicing boaters at Thunderbird Lake since 1987. Our services include a modern, full service ship's store complete with a large selection of watersport and boating accessories, groceries, picnic supplies, apparel, fishing tackle, prepared and live bait

Boat and RV storage is the backbone of our business, and we do it right! We have over 100 floating boat slips, covered and un-covered. From 20' and 28' un-covered slips for your sail or pontoon boat, to 24' and 32' covered slips for your ski boat or express cruiser, you will find our docks well maintained and lighted with plenty of room between docks for maneuvering. The marina is gated, and our management staff lives on site to provide a high level of service and security.

Our modern dry storage facility offers a variety of options for storage of your boat or RV. Our completely enclosed buildings are 12' wide inside and have a 10' x 10' overhead garage door. These buildings are 30' or 36' deep, have solid sheet metal divider walls (not chain link fence or chicken wire), and sky lights in the roof so you can see where you are backing. We also have large buildings for RVs or cruisers on trailers that are 12' wide, 40' deep and 14' high. There are no dividers or doors on this building. We also have parking outside on a gravel lot. Our dry storage facility is accessible 24/7 via a security gate inside Lake Thunderbird State Park, Clearbay Area, halfway from Hwy 9 to the boat ramp.

Other services we are proud to offer: We are the Central Oklahoma distributor for HydroHoist Boat Lifts. We have a full service pump out for boats equipped with heads and a fuel dock dispensing marine grade fuel. We also offer a small fleet of canoes and paddle boats for rent.

Contact us at (405) 360-9846 for slip and dry stall availability or store hours.